The S
.

E

.

E

.

P Classes

Spoken English & Etiquettes Program for Women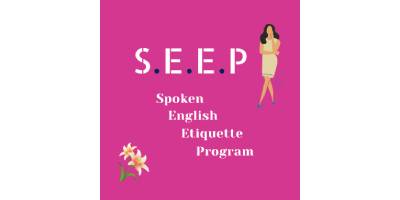 Course Description
Groom yourself to master appropriate usage of the English language. At the very outset, refined social behavior gives a positive impression. Simple techniques learnt here will add loads of confidence in you.
What will you learn
Spoken English
Learn the right usage of words
Vocabulary
Grammar
Diction
Pronunciation
Reading habit
Social Interactions
Meet Strangers with Confidence (Husband's Colleagues/Social Gatherings/Meetings/Functions)
Being appropriate at all times when interacting with others
Cultural- Yes's and No's
Speaking to an audience
Social Etiquette
High-Profile Dining
Hosting Parties/Functions
Manners (The way to behave in particular occasions)
Being Formal- What it means
For whom is this course


Working Women and Homemakers

Course Duration


24 Sessions (3 months)

Course Fee
₹ 7500/-
Fee Pay
Sample this


Wives have a big role to play in the careers of their husbands; specially by giving a good impression during official get-togethers and company family dinners.